Features & Screenshots
Adam DU Data Capture Utility Feature List
Quick and easy to use interface, supports capturing data simultaneously over a serial communication port(s) from up to 8 balances/scales.
Main Commander Window to manage and overview all data capture sessions.
Graph readings in real-time.
Perform statistical analysis on readings (Min, Max, Median, Mean, Variance, Standard Deviation) in real-time.
Export captured readings to several file formats (Text, CSV, HTML, XML).
Export captured readings quickly to other applications (such as MS Excel,MS word, etc.)*.
Export captured readings to the Windows® Clipboard for quick importing into other Windows® applications.
Capture custom data along with the scales data readings - supports up to 6 additional user defined data fields that can be input manually by a user.
Interact with the connected Balance/Scale - send remote commands to control certain aspects of the balance/scale (certain commands are only applicable to specific models). Ideal for situations where you may only have remote access to a scale/balance.
Log calibration reports to file for complete tracking of calibration records.
Log form output (custom defined multiple line data from a balance) to a file.
Continuously log readings to a file in real-time.
Print raw readings and the graphed readings.
Collect date and time with readings, where supported collect the Scale/Balances serial number for unique identification of data readings/balance.
Quickly search for readings - a specific reading(s), max or min reading.
You can download the user manual for a more detailed description of the Adam DU functionality.
Collect Density Determination readings when used with an appropriate balance and Density Determination Kit.
Collect unit weight, piece count, unit price and total price from counting and retail scales.
Capture Tare weight, Net weight and Total/Gross weight from any scale used for production line applications.
Speak all readings received from a balance/scale using the Microsoft® Speech Synthesizer engine (Windows XP and later).
*(You need a licenced copy of Microsoft® Word/Excel to use this facility)
---
Supported Adam Balances & Scales
Current Products
Supported Legacy Products
The following products are no longer manufactured but are still supported in Adam DU:
ACBplus Compact Balances

(Legacy product)

ADK Precision Balances

(Legacy product)

AE 202 Indicators

(Legacy product)

AE 401 Indicator

(Legacy product)

BFW Platform Scales

(Legacy product)

CFC Floor counting Scales

(Legacy product)

CFW Check Weighing Floor Scales

(Legacy product)

PGL Precision Balances

(Legacy product)

PW Analytical Balances

(Legacy product)
---
Adam DU Data Capture Utility Screenshots / Images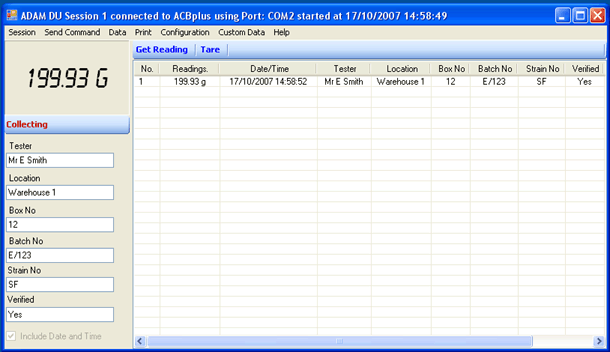 Adam DU capturing custom data entered by a user, in addition to the reading from the scale.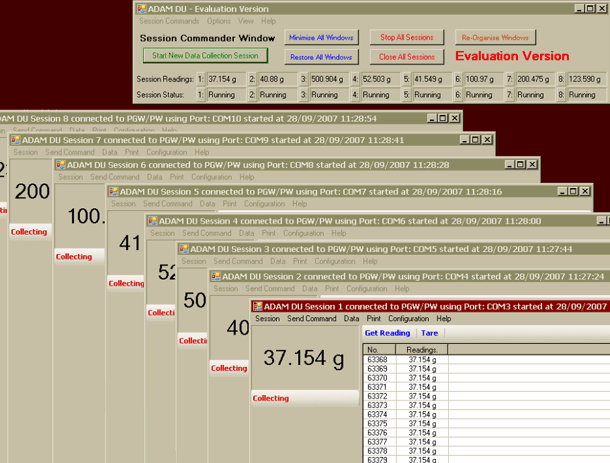 Adam DU running with 8 simultaneous data capture sessions connected to 8 Adam Balances